21 victories, 58 podiums out of 74 races by 13 different athletes, and four crystal globes, including an overall World Cup title—the 2021/22 Alpine Ski World Cup was packed with successes and records. Atomic shares the stories behind these impressive numbers.
The start of the FIS Alpine Ski World Cup season in October 2021 in Sölden, Austria, was promising. Mikaela Shiffrin (Mika) celebrated her 70th World Cup victory and the first official success on a model from our latest ski generation: Atomic Redster G9 Revoshock S. The equipment and the athlete would again form a perfect pair, sending a message to competitors that Mika would again be the benchmark this season.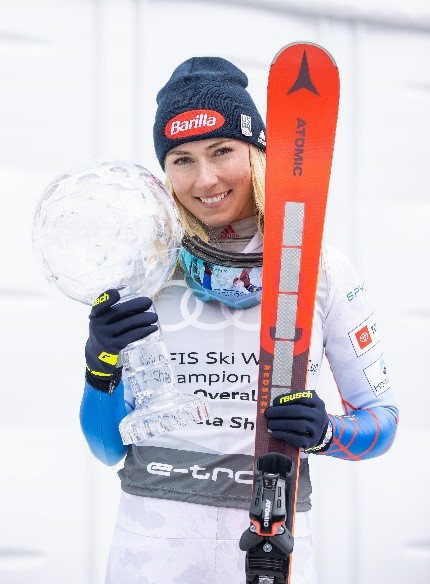 Mika's victory was followed by 13 incredible podiums across all four disciplines (slalom, giant slalom, super G, and downhill), and crowned by a close battle but eventual triumph: her fourth overall World Cup title following 2017, 2018, and 2019. ​​​​​​​
"Mika was once again impressive, even though she definitely did not have an easy season due to a covid-19 break and the difficult time at the Olympics", said Atomic's Global Alpine Race Manager Christian Höflehner.
One victory stands out: On January 11, Mikaela won her 47th World Cup slalom, surpassing Ingemar Stenmark's record for most victories in one discipline.
"It's been some high moments this season, and it's been some really difficult moments as well," Mikaela commented. "Ending it on a high and finding some really nice moments on the last races, that's really important and very special."
​​​​​​​Like a true champion, Mikaela came out even stronger at a time when it counted most. At the finals in Courchevel, France, she won her first downhill in over two years, taking steps towards winning the overall World Cup title.
Aleksander Aamodt Kilde: From rehabilitation to speed king
Mika's partner also skied from success to success: Aleksander Aamodt Kilde took ninth place in his first race since his knee injury. A week later, he sent a powerful message by winning the Beaver Creek Super G in the US.
The rest of Aleksander's season was consistent. The Norwegian finished every speed race in top 10; winning the Downhill and Super G globes was a logical, albeit hard-fought result due to the high level of the World Cup. He also fulfilled his lifelong dream at the Olympic Games with bronze in Super G and silver in Alpine combined.
"Alek's season was simply indescribable. But, above all, the giant slalom at the finals definitely makes you want more," said Christian, already looking forward to the coming season. Aleksander plans to start in selected giant slaloms again.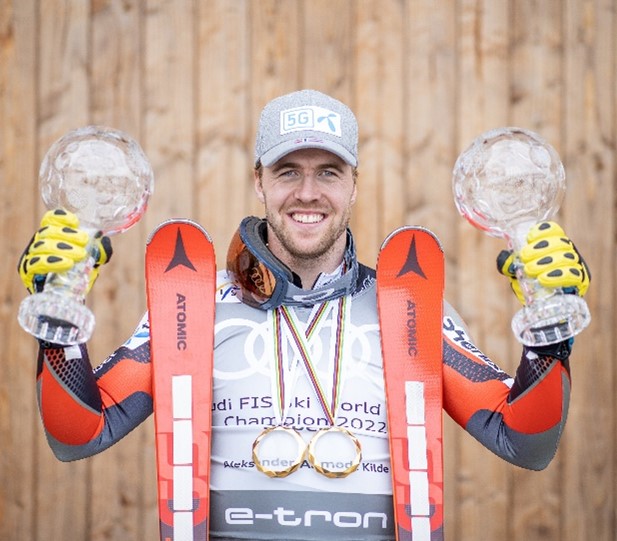 Sofia Goggia: Redster dominance in speed disciplines
Sofia Goggia's performances on and off piste were impressive: 1st, 1st, 1st, 2nd, 6th, 1st, 1st, 19th, and 1st were the Italian's rankings in the speed disciplines before she injured herself at her home race in Cortina D'Ampezzo, Italy, on January 23. A partial tear in the cruciate ligament, a minor fracture in the fibula, and a sprained knee joint made it doubtful that she would compete at the Olympic Games in Beijing.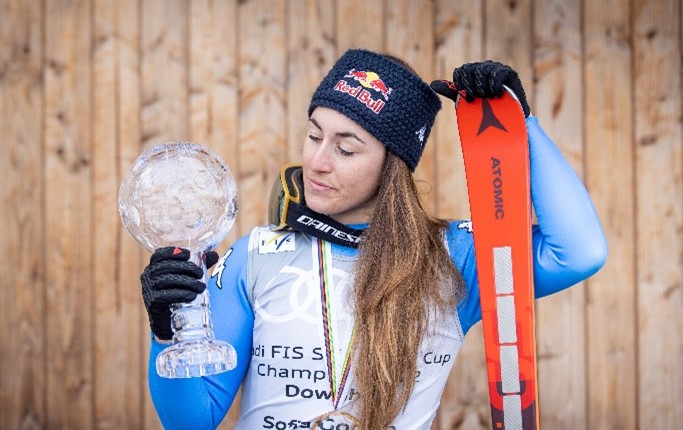 But we know that surrender is not an option for her. Two weeks after the crash, Sofia skied to Olympic silver with the bravest line of all racers, writing the comeback story of the season. The crowning glory: the winner of the downhill crystal globe.
Twice this season, Atomic racers occupied the entire podium, namely in the downhill races from Lake Louise in Canada and Val d'Isere in France through Sofia Goggia, Breezy Johnson, and Mirjam Puchner.
World record man Lucas Braathen and consistent Manuel Feller
Two athletes showed that we can count on them in every race in technical disciplines: Manuel Feller and Lucas Braathen. The latter skied in the Wengen slalom in Switzerland from 29th place after his first run to a brilliant victory—no skier before had managed such a giant leap forward in the history of the World Cup. In addition, the 21-year-old was in the running for the slalom globe until the very end—not bad for a comeback season.
Manuel Feller was particularly convincing this winter with consistent performances, "and that in both disciplines and in a way that he was competing for the globe until the last race," Christian Höflehner added.
Even without a win in the end, the Tyrolean from Austria was able to celebrate seven podium finishes and a second place in the Slalom World Cup, and a third place in the Giant Slalom World Cup. His wild ride in the second round in Schladming, Austria, was legendary—he skied up from 28th place in the first run to third place, straight from coronavirus quarantine.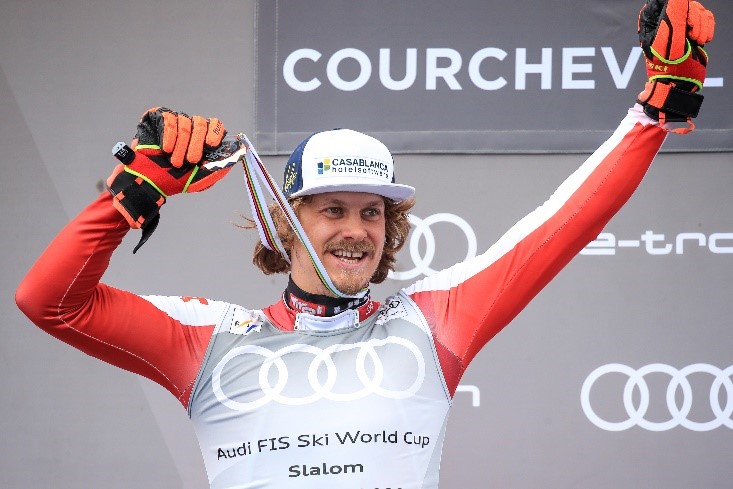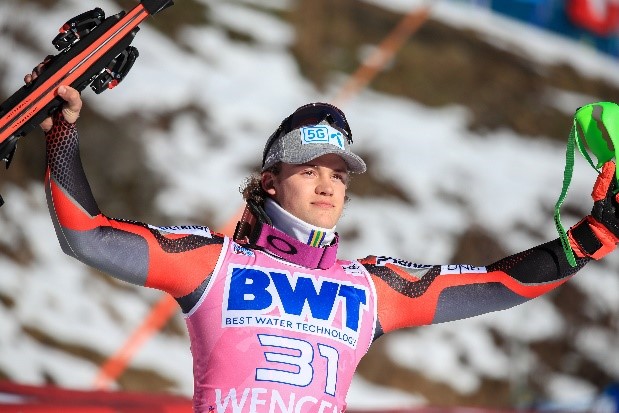 Joana Hählen, Niels Hintermann & others on their way to the top
We also want to celebrate the many personal successes of other Atomic Redster athletes:
Mirjam Puchner showed consistency this season by finishing on the podium three times. She ended the Downhill World Cup with a strong fifth place and crowned the season with the silver medal in the Olympic Super G.
Niels Hintermann celebrated his first victory in a World Cup downhill race in Kvitfjell, Norway, and finished on the podium four times.
Joana Hählen achieved her best World Cup result with a second place in the downhill in Courchevel, France, and her first podium finish since placing third in the Super G in Rosa Khutor, Russia, in February 2020.
Blaise Giezendanner amazed the whole World Cup team with his third place in the Hahnenkamm downhill in Austria.
Nadia Delago became bronze medalist in the Olympic downhill race.
Ali Nullmeyer was able to race top 10 in the World Cup for the first time in the slalom in Zagreb, Croatia, achieving her best career result with a fifth place at the night race in Schladming, Austria.
Jeff Read finished for the first time of his career in the top 10 and became seventh in Kvitfjell, Norway.
The Polish Maryna Gasienica-Daniel and the Canadian slalom women also gave respectable performances in technical competitions. ​​​​​​​
These strong performances speak not only of each athlete's drive in the Atomic Redster team, but also the strong team spirit. This is reflected in one anecdote:
Two days after winning silver in the Olympic Downhill in Beijing, Sofia Goggia lent her Atomic Redster colleague Mikaela Shiffrin her downhill skis for the Alpine combination. But that's not all: to support and encourage Mika, who was unlucky at the Games, Sofia stuck a small piece of tape on the ski with the words "FLY MIKA, YOU CAN." A gesture that defines real champions and shows how team spirit in the Atomic Redster team is not just a word.
"You have to mention the whole team here. We're not talking about jobs that are done but about real passion. What each individual invests and how everyone gives everything and lives for it, that's really impressive," said Christian, proud of the Atomic Redster team.