Circular economy

Together with our brands, we are committed to adopting the best practices for building a circular economy.
We have a strong ambition to reduce the environmental impacts of our products and strive continuously toward closing the loop in all materials we use.
We are actively adopting circular economy practices and continuously seeking new alternatives on how our products can be designed, re-used, or kept in circulation in other ways, as laid out in our Circular Economy Principles. By following these principles, we will reduce waste, increase resource productivity, and help reduce our environmental impact.
Amer Sports circular economy principles
Product lifecycle
Basic: We deploy a lifecycle assessment or use other comprehensive and science-based methodologies for core product offerings to estimate our sustainability impact.

Advanced: Based on the sustainability impact assessment, we continuously seek low-impact alternatives for design, development, and production processes.
Resource efficiency
Basic: We improve resource efficiency in our own operations by annually assessing our manufacturing processes. Where possible, we use lightweight materials and recycled or bio-based content in our products, minimize manufacturing waste, and recover waste for reuse as a resource.

Advanced: We seek to systematically improve resource efficiency across all elements of operations and throughout the supply chain.
Durability and repair
Basic: We prolong the lifespan of our products by designing durable high-quality products, as well as by aiming for continuous improvement. We expand product life by offering consumers advice on product care and by providing repair services.

Advanced: We design and develop products with a total lifecycle approach, including easy repairability.
Business models
Basic: We constantly explore alternative business models to maximize the use of our products.

Advanced: We use a service model and sharing platforms to reduce our impact and improve the value we provide to our customers
End-of-use
Basic: We guide our customers on how to return products at the end of use, such as through recycling, or via product take-back schemes.

Advanced: We close the loop at the end of product life by developing our capabilities to remanufacture or upgrade products, and by designing recyclable products.
Measuring our circular economy performance
We measure our performance in the circular economy (for example, the amount of waste produced) with various key performance indicators (KPIs). The progress in these selected KPIs is tracked annually. Read more about our KPIs on our Sustainability report 2021.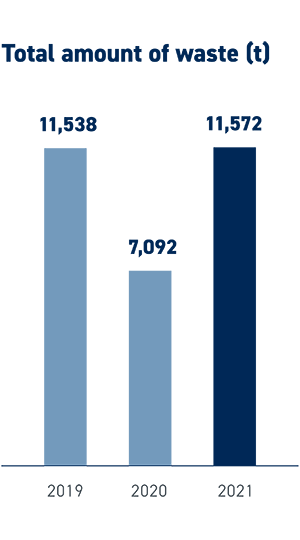 We put our principles into practice
Our brands have several concrete examples of how we've put our Circular Economy Principles into practice:
Arc'teryx: leftover materials and the used-gear marketplace
Arc'teryx has created a used-gear marketplace to extend the lifespan of its durable, high-quality products. Customers can mail in their used gear or bring it to any Arc'teryx brand store across the United States. The products are then cleaned, repaired, and put back into circulation. The Used Gear program also includes an online take-back option in Canada. Arc'teryx plans to extend the model to other countries.

Since 2020, Arc'teryx has launched several upcycled products made from leftover materials. The products are made from pre-consumer waste like fabric offcuts and post-consumer waste from jackets that are no longer usable.

Arc'teryx has also brought attention to circularity in fashion by launching special services and organizing themed events. In 2021, Arc'teryx opened the first ReBird™ Service Center in one of its New York stores. The center provides complimentary on-site product assessment and education, connecting customers to the brand's ongoing commitment to circularity, including upcycling, resale, and care and repair. Arc'teryx also hosted a Circular by Design event in New York City in 2021. The event included, for example, workshops with cast-away materials and a sustainability roundtable discussion featuring Arc'teryx's sustainability professionals and designers.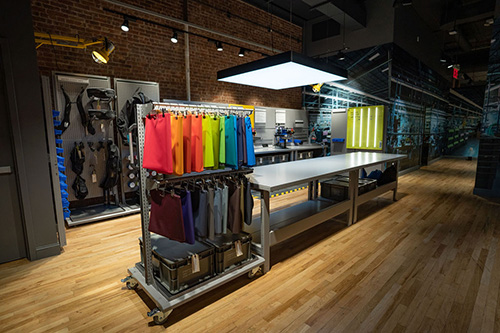 Ski recycling at Atomic and Salomon
Amer Sports' Winter Sports Equipment category has started an ambitious life-cycle assessment (LCA) project for skis. The project is led by Atomic, and it also builds on Salomon's winter sports sustainability strategy. 

The aim is to identify the factors that cause the most significant environmental impact on skis. The LCA includes material flow analysis, energy demand, and logistics, as well as the transportation of goods, materials, and personnel.
Atomic is also exploring a ski recycling project, with the purpose of finding out how to reuse or utilize the materials and different components used in the products. On top of that, Atomic is doing research on how to use alternative materials for various ski parts.

Both Atomic and Salomon continuously look into how they can increase the use of recycled materials in their boot manufacturing processes. They have recently developed processes to increase the use of recycled plastic in ski boot constructions.
Peak Performance is going for full circularity
Peak Performance has built its sustainability strategy on longevity. The company is committed to transforming its business from a linear model to a circular one, enabling a circular way of life for their products and customers. Peak Performance is committed to ensuring that 30% of its products are circular by 2023, rising to 100% by 2030.

Peak Performance has created a circularity grading system to classify its products into three different levels according to their maturity. Currently, 84% of all products are reaching Level 1 or Level 2, where more sustainable materials are used and the production is done in an energy-efficient manner while using less water and chemicals. In Level 3—the end-goal for most products—all circular principles have been met.

Peak Performance works continuously on their circular principles. The brand has hosted product-specific workshops with all its teams to increase awareness and demonstrate progress.

In 2021, Peak Performance launched its first-ever second-hand store inside its flagship store in Stockholm, Sweden. Peak Performance also works to reduce the number of product samples used for marketing and has started to replace them with 3D sampling solutions.

To reduce waste, Peak Performance launched its packaging efficiency program. The goal is that 50% of all polybags will be made out of recycled materials by 2022. In the long term, all polybags will be replaced with recycled material bags.

In 2021, Peak Performance joined the Global Fashion Agenda's Circular Fashion Partnership. This included a project wherein the company explored new opportunities for textile waste and how to utilize deadstock in the future.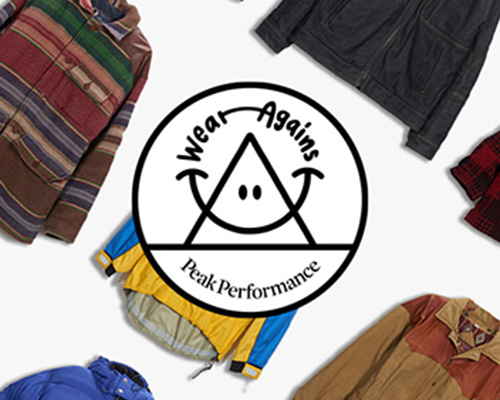 Salomon leads the way with circular shoes
Launched by Salomon in 2021, the Index.01 running shoe is fully recyclable.

The entire shoe can be separated into two parts at the end of its life. The bottom unit can be ground into tiny pieces and then used in the creation of a Salomon alpine ski boot, for example. The upper part, made from polyester, can be recycled into other products. Salomon has organized the take-back of the products directly with its consumers.

To follow this success, Salomon is developing a full range of circular shoes: the Index Break. In 2023, the brand is announcing a flip-flop version of the Index.01 as well as an upcoming line of running shoes. Salomon is also developing the concept of a fully recyclable helmet and several other fully recyclable winter sports gear items.

Salomon continues to develop its second-hand market through its outlets, where it sells second-hand ski gear that is taken back from its retailers at the end of each season.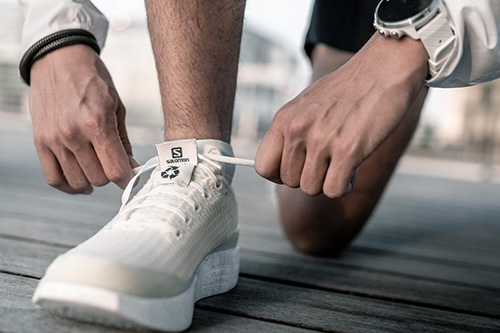 Wilson collected 15 million tennis balls for re-use
In 2021, Wilson Tennis launched the limited-edition Naked Series rackets, which are paint and dye-free with zero packaging waste. Bio-based Agiplast was introduced on each racket's bumpers, grommets, and buttcaps, and is now standard in all of Wilson's new performance racket releases, reducing waste substantially.
Wilson and
RecycleBalls
partnered to collect, recycle, and repurpose tennis balls across the United States. The Wilson/RecycleBalls partnership aims to recycle 15 million tennis balls in the U.S. from 2019 to 2025. The balls, which are specifically collected at US Open tournaments, are separated, ground up, and used to resurface tennis courts around the United States.
Wilson also plans to launch basketball product lines that utilize recycled material in its basketballs and in its packaging. This will complement packaging reduction efforts of removing protective poly bags and using smaller packaging, achieved by deflating the basketballs before shipping them to the customer.