ENVE is expanding their manufacturing expertise and product offering to include bicycles. Until now, the brand has focused on manufacturing carbon fiber products like wheels, components, and equipment. Now ENVE introduced the Custom Road bike, a modern road bike manufactured at their Ogden headquarters in Utah, US.
Expanding manufacturing
The ENVE Custom Road is a modern road bike featuring an aerodynamic design, integrated components, premium carbon construction, and 35mm of tire clearance. To top it all off, customers can personalize everything from geometry and paint to wheels and components.
"We are extremely excited to launch the Custom Road bike. We see that ENVE—as a carbon specialist and US manufacturer—has a great opportunity to deliver a bike that can compete with the best high-end frame models available while also delivering a high-touch personalized experience to our customers," commented Jake Pantone, ENVE's Vice President of Product and Brand.
Production of the ENVE Custom Road bikes has begun and bikes are now shipping to select customers in the US.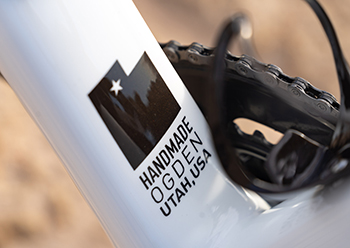 Design your own ENVE Custom Road bike
ENVE streamlines the customization process using an online application called the ENVE Bike Builder. The builder guides customers through their build and allows them to change wheels, components, paint design, and colors. ENVE is offering four paint design templates and 38 colors. For customers who want paint and design outside of this offering, full custom paint is available from ENVE, or a "ready to paint" chassis can be shipped to one of several specialty bicycle paint shops with whom ENVE has partnered.
"The ability to customize and add that personal touch to each Custom Road is the crux of this project. While customization at any level is a challenge, the ENVE Bike Builder allows customers to virtually paint and build out their dream bike, streamlining the process and allowing us to focus our direct interactions with customers on getting their fit and geometry defined," says Pantone.
The Custom Road bike is available in two unique formats, "Race" and "All Road." The Race geometry has a shorter wheelbase and delivers the ride sensations you would expect from a pro-level race bike. The All Road features a slightly longer wheelbase and is tuned for larger volume tires making it an ideal solution for mixed-surface adventures. Regardless of the chosen geometry, the Custom Road can accommodate a labeled 35mm tire, making it a viable option for mixed-surface road events like the Belgian Waffle Ride or Paris-Roubaix Challenge.