Meet Desiree Huang, Director of Sales for Amer Sports Asia-Pacific. Read on to learn about how Amer Sports signified the start of a new chapter for Desiree, how she explored her full potential, and embraced the beauty of change. 
The start of a new chapter
Before joining Amer Sports in 2011, Desiree Huang was in high fashion retail and licensing for nearly two decades.
"Starting at Amer Sports was a new chapter for me. I was appointed Business Development Manager for Taiwan and had to learn everything from scratch—product knowledge, distribution, trade terminology. Though I came from marketing and sales, working with sporting goods is totally different. It was a unique experience for me," Desiree says.
In 2019, she moved to Malaysia from Taiwan for her current role as Director of Sales for Asia-Pacific. Prior to that, Desiree also gained experience in managing multiple countries and working across different Amer Sports brands such as Arc'teryx, Salomon, and Wilson.
Exploring her potential with the sky as the limit
Desiree feels grateful for the many learning opportunities she's been given.
"I've learnt about a different industry, different products, and managing the business from different points of view."
But the opportunities have also been challenges, which Desiree sees in a positive light in retrospect. "Looking back, I think I'm quite fortunate to have been given these challenges that allowed me to explore my own capabilities."
Before joining Amer Sports, Desiree believes she was limiting her own potential.
"I thought, 'Oh, I am confined to a certain industry or a certain role.' But Amer Sports always found ways to test me—in a good way. The company has pushed me to grow, explore my potential, and taught me that sky is the limit," she says.
Recognition and support
Desiree lives in the present, not thinking about "her next career move." Instead, she has always focused on doing the best she can in her given role. When she was offered the Sales Director role, it came as a surprise.
"I think I never actually discussed the prospect of becoming Sales Director with my manager. When I was Business Development Manager, I was trying to do the best I could. I focused on things like, 'What's the maximum I can grow our sales for this market?'"
"When my boss called me, I thought he was just calling me for a regular catch-up. I did not expect him to want to discuss my career and offer me a promotion. So, when he told me, I was a bit shocked and thrilled," Desiree says.
From Taiwan to Malaysia
The promotion to Sales Director required Desiree to move to Malaysia from Taiwan.
"I had just adopted a dog and thought that relocating with my family and my dog would be tricky," Desiree says and chuckles. "I immediately discussed it with my husband."
Together they decided that Desiree would go first and get things set up for her family to join later.
"I thought the rest of my family could join in three to six months, and we would settle in together."
But then COVID-19 happened, followed by travel bans.
Reunited at last
Desiree ended up living alone in Malaysia for two years.
"This was a bit of a tough time for me. But my colleagues in Malaysia were really supportive, and they helped me fit in. Last year, I finally brought my dog to Malaysia, and then earlier this year my family was able to join me," she rejoices.
Even though the relocation didn't go as planned, Desiree is happy she accepted the promotion. "The support I got from the company and my colleagues helped me overcome any challenges. This has always been the case at Amer Sports," she says.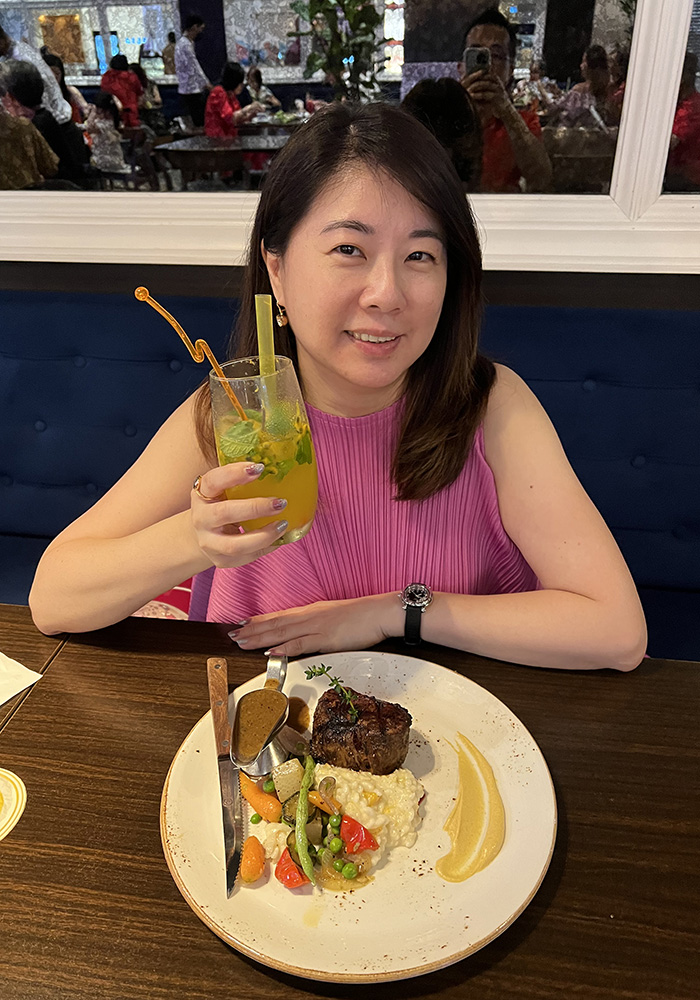 Desiree Huang
Current role: Director of Sales Asia-Pacific
Location: Amer Sports Malaysia

Previous experience: "Before joining Amer Sports, I worked in licensing for 8 years, plus 11 years in fashion and lifestyle retail."

Hobbies and interests: "I love travelling and spending time with my husband and my dog. I enjoy learning about new cultures and value the simple things in life."

Fun fact: "I was 50 years old the first time I ever moved away from my hometown—and I enjoy every minute of it now."