Salomon women Røiseland, Dahlqvist, and Diggins lead the charge in Beijing.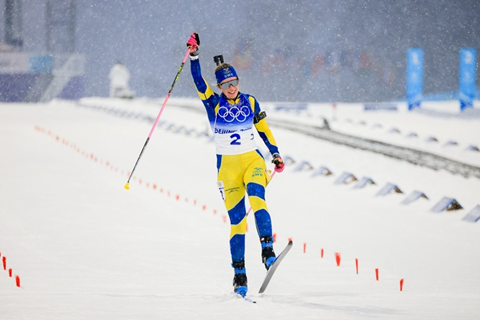 The Winter Olympic Games have come to an end and many of Salomon's Alpine, Nordic, and Freestyle ski and Snowboard athletes have returned home or back to World Cup action. Before turning our attention to the rest of the competition season, let's take a look at how Salomon's teams fared at the Olympic Games.
Over the course of 16 days in Beijing, China, Salomon ski and snowboard athletes grabbed 28 medals at the Olympic Games in Beijing across Alpine, Nordic, and Freestyle disciplines. The breakdown was 9 gold medals, 9 silver medals, and 10 bronze.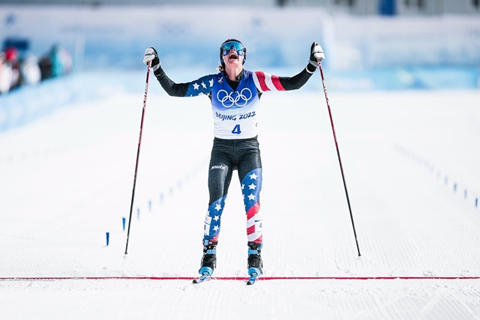 The Salomon Nordic ski team, which has been standing on more and more podiums over the last few Cross-Country and Biathlon seasons, led the way in the extreme cold of Beijing. Nordic athletes grabbed 25 of Salomon's 28 total medals, including the first Cross-Country skiing individual medals for Salomon at the Olympics and the first Biathlon individual Olympic gold medals on a full set up of Salomon skis, boots, and bindings. There were also two medals in Alpine racing and Ski Cross, and one more in Snowboarding.
The athletes competed on skis and snowboards that feature the brand's new "Bluefire" visual identity, which will adorn the 2022 Fall/Winter Alpine and Nordic ski racing and competition products.
Nordic skiing
In Cross-Country skiing, Jessie Diggins solidified her legacy as America's most decorated Nordic skiing athlete, winning two individual medals—a bronze in Sprint Skate and a silver medal in Mass Start Skate on the final day of the Games. In that race, she overcame a bout of food poisoning in the days leading up to the race.
"I was feeling pretty bad 24 hours (before)," Diggins told the media. "I was talking to my parents and my mom said, 'Don't decide how you feel right now. Just go out there and ski because you love to race.' And she was right."
"Every last drop of energy went into that race," Diggins added. "The last two laps, my legs were cramping. We had amazing cheering out there, and I thought, I just can't give up, I have to put everything I had into the snow today and finish with nothing left. I did try really, really hard."
Diggins was one spot behind fellow Salomon athlete and silver medalist Maja Dahlqvist (Sweden) in the Sprint Skate. It was the first of three medals Dahlqvist would win. She won two medals as a member of Team Sweden—bronze in the 4X5km Relay and silver in the team Sprint Classic. After the Games, Dahlqvist was honored at her home in Borlänge, Sweden, where she joked that her three medals were "heavy."
Also in cross-country, three French Salomon athletes—Richard Jouve, Clément Parisse, and Maurice Manificat—teamed up to win a bronze medal for France as members of the 4x10km relay team.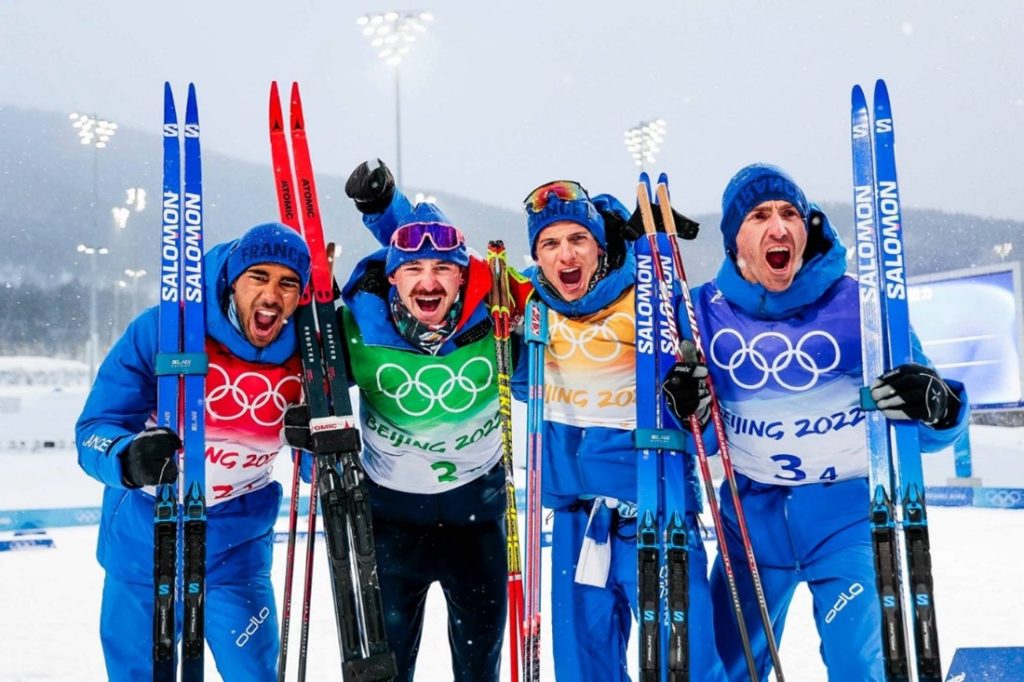 In the 4x5km women's team race, Salomon athlete Tatiana Sorina won gold and Sofie Krehl silver.
In Biathlon, Salomon athletes hauled in an incredible 15 medals in Beijing. Norway's Marte Olsbu Røiseland had a legendary performance, winning five medals in all. She took gold in the 7.5km sprint and the 10km Pursuit, bronze in the 15km race, and then the bronze in the Mass Start. She also won gold in the mixed relay race with Team Norway.
"Many thanks to everyone who has helped me achieve my dreams! You are so many," Røiseland said in an Instagram post at the conclusion of the Games. "I am proud and grateful to be able to compete for Norway together with the world's best biathlon national team. Thanks again to everyone behind this, without you it would never have been possible."
Salomon athletes owned the top of the podium in the women's 7.5km sprint and 10km pursuit, with Salomon skier Elvira Öberg of Sweden winning silver behind Røiseland in both races.
In the 20 km Individual Men's race, Anton Smolski of Belarus won the silver medal, while Vetle Sjåstad Christiansen of Norway captured the bronze medal in the Men's Biathlon Mass Start.
Elsewhere, Julia Simon won a silver medal as a member of France's Mixed Relay biathlon team. Mona Brorsson and Elvira Öberg won gold with Team Sweden in the 4x6km relay, while Salomon athlete Vanessa Voigt won bronze with Germany in the same race.
Sixty-five percent of all cross-country skiing and biathlon starts by Salomon athletes were taken with the company's brand-new S/LAB skis, offering evidence that the upcoming Fall/Winter 2022 ski range performs on the biggest stage.
Overall, Salomon Nordic was the No. 2 medal earning ski manufacturer at the Games, winning nine more medals than the team captured at the 2018 Olympics in Pyeongchang.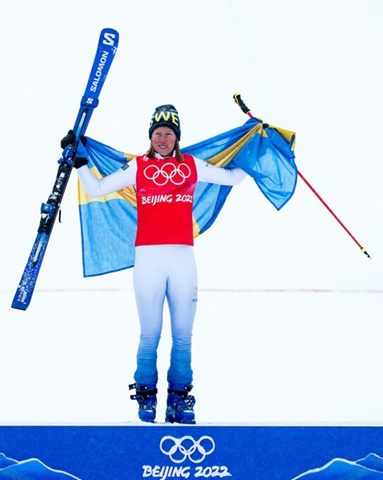 .
Alpine and freestyle skiing
In Alpine Racing, Switzerland's Marco Odermatt won giant slalom wearing Salomon ski boots, continuing to set the standard as he has all season on the World Cup. Austria's Tamara Tippler was just off the podium in the women's Super G, finishing 4th.
In Ski Cross, Sweden's Sandra Naeslund continued to absolutely dominate the sport regardless of whether it's a World Cup race or the Olympics. Like she has been all season long, Naeslund was first. This time, that meant a gold medal.
"Getting into the Olympics with sky-high expectations both from outside and from myself is not easy," Naeslund said on Instagram following her victory. "I am very proud of how I completed the competition, how I rode with confidence, focus and calm throughout the competition day. I rode stably and fast as I did all season even on that day when it mattered most!"
Canada's Noah Bowman just missed a bronze medal with a 4th place finish in the men's halfpipe. The 29-year-old finished 5th at the 2014 and 2018 Olympics.
"I was here with the intention to win and get on that podium," Bowman said. "I'm proud of how I skied. The result isn't necessarily a factor in that but I gave it everything I had and I'm proud of myself."
Snowboarding
Finally, in Snowboarding, Australia's Tess Coady won a bronze medal in women's Slopestyle.
"Feeling so much love this last 24 hours, this has honestly been such a dream come true," the 21-year-old Coady said in an Instagram post. "Would never have believed this moment would have come 4 years ago. Thank you all so much for watching and supporting."
Congratulations to all the Salomon athletes who competed at the games, and to all of our Salomon teams around the world who have helped them get there!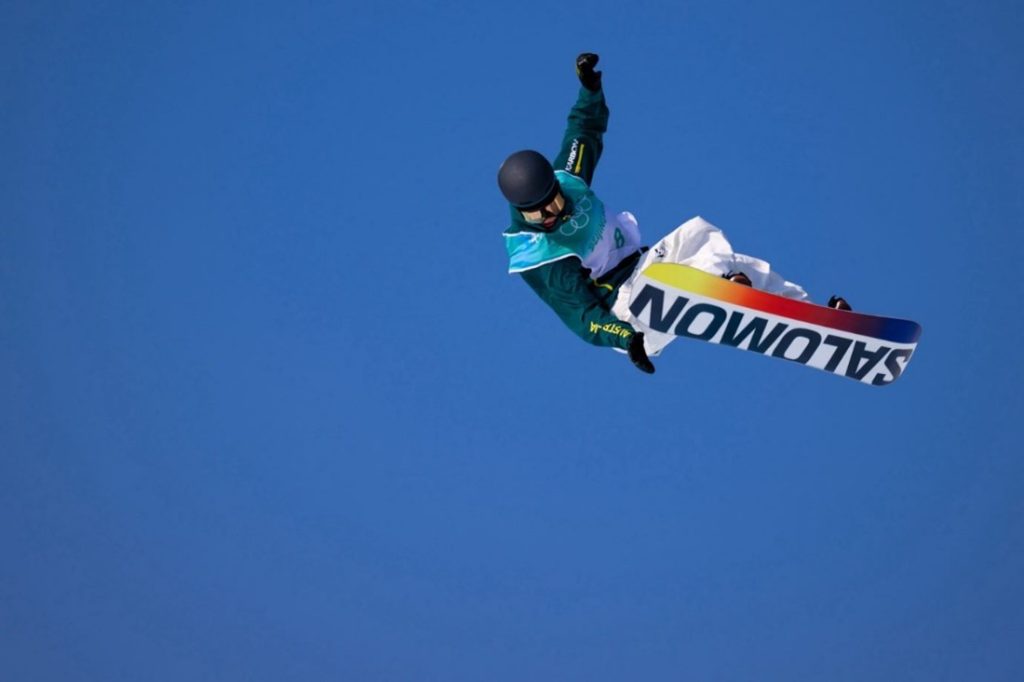 Go to Salomon.com