American runner Courtney Dauwalter adds to her legacy with record-breaking victory in Colorado, US. French champion Francois D'haene follows up last year's win with another impressive run.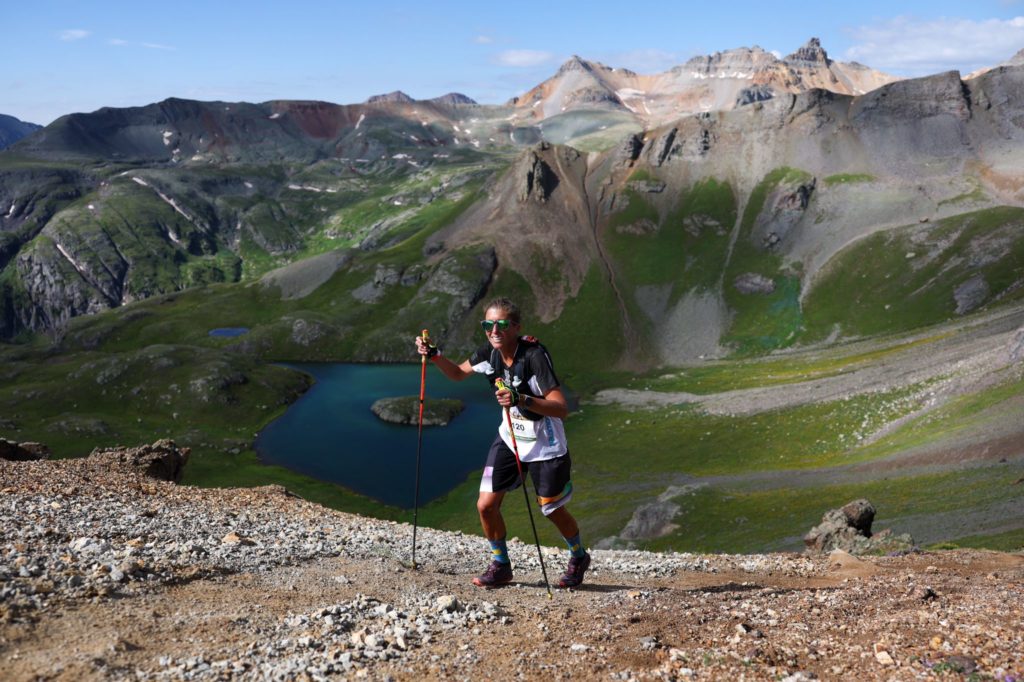 Courtney Dauwalter wins Hardrock 100
Salomon athlete Dauwalter added another line to her legendary ultra-running résumé last weekend, winning the Hardrock 100 Endurance Run over and through the San Juan Mountains of Colorado, US in record time.
The Colorado resident, who has won virtually every noteworthy race on the global ultra-running calendar, finished the 100-mile (160 km) race in 26 hours, 44 minutes and 36 seconds. She finished in 6th place overall and was more than seven hours ahead of the next woman competitor.
Each year the Hardrock course alternates its direction. This year, it was run in the slower clockwise direction, yet Dauwalter still recorded the fastest women's time ever done in either direction.
"My main goal of the race was to finish the loop and to kiss that rock," she said, referring to the traditional finish ceremony for each runner who arrives in Silverton. "When I made it back to town and knew it was going to be a reality, I was so excited. It is such a tough course! And it was really cool to complete this race in the beautiful Colorado mountains with an amazing group of friends."
With other career victories, the Hardrock 100 title was the crown jewel still missing from Courtney's trophy case. But that is the case no longer.
After some rest and relaxation, her next race will be at the Diagonale des Fous in Réunion Island in October.
"I am looking forward to checking out a new place and testing myself on a new course," she said.
Francois D'haene finishes 2nd in men's race
In the men's race, Salomon athlete and defending Hardrock 100 champion Francois D'haene turned in an incredible performance, finishing 2nd to Kilian Jornet in a time of 21 hours, 51 minutes and 21 seconds. Both D'haene and Jornet (21:36:34) shattered Jornet's previous clockwise course record.
The friends and rivals ran nearly the entire race together before Jornet was able to pull away in the last few miles to kiss the rock in Silverton 15 minutes before D'haene. The Frenchman lost time on the final two downhills when the Spaniard picked up his pace on the type of technical terrain he relishes.
"On the last two descents, we went a bit faster, and Kilian was pushing," D'haene said. "I was able to stay close with him on the first descent, but on the last downhill he was very fast with his pacer, and it was very technical and rocky. He took about a three-minute advantage over me, and then I decided to enjoy the last hour of the race. There is a bit of regret, of course, but it was a nice race and a 2nd place finish, and I ran a good time, so I enjoyed it and it was a great experience."
In recent years, the four-time UTMB® (Ultra-Trail du Mont-Blanc) champion has come to love the terrain and trail running community of Colorado.
"It was so nice to be able to be back and see the community here in Colorado," he said. "It's the heart of ultra in America. I really enjoy being here and being able to spend nearly two weeks in this amazing place, with a nice community of people, has been such a special experience."
Congratulations to both Dauwalter and D'haene!
Which Salomon equipment did the athletes use?
Both athletes used all Salomon footwear, apparel, and packs, including a number of prototype products created by the Salomon Service-to-Athletes team.
Dauwalter wore S/LAB Ultra 3 trail running shoes, a Salomon S/LAB Ultra Hydration vest from the upcoming 2023 range (with Salomon flasks), a Salomon prototype tee, her trademark long Salomon prototype shorts (often called "Shortneys"), and used a Salomon custom quiver to carry her poles.
D'haene wore the same prototype Salomon ultra-running shoe that he used to win the UTMB® in 2021, a prototype Salomon S/LAB running vest with Salomon hydration flasks, a Salomon tee-shirt (similar to the Sense tee shirt), his prototype long Salomon shorts, a Salomon cap, and used a Salomon custom quiver to carry his poles.
Look for some of these prototype products to be developed for the Salomon range in the coming seasons.
A longer version of this news was originally published on Salomon.com
Photo credit: Howie Stern