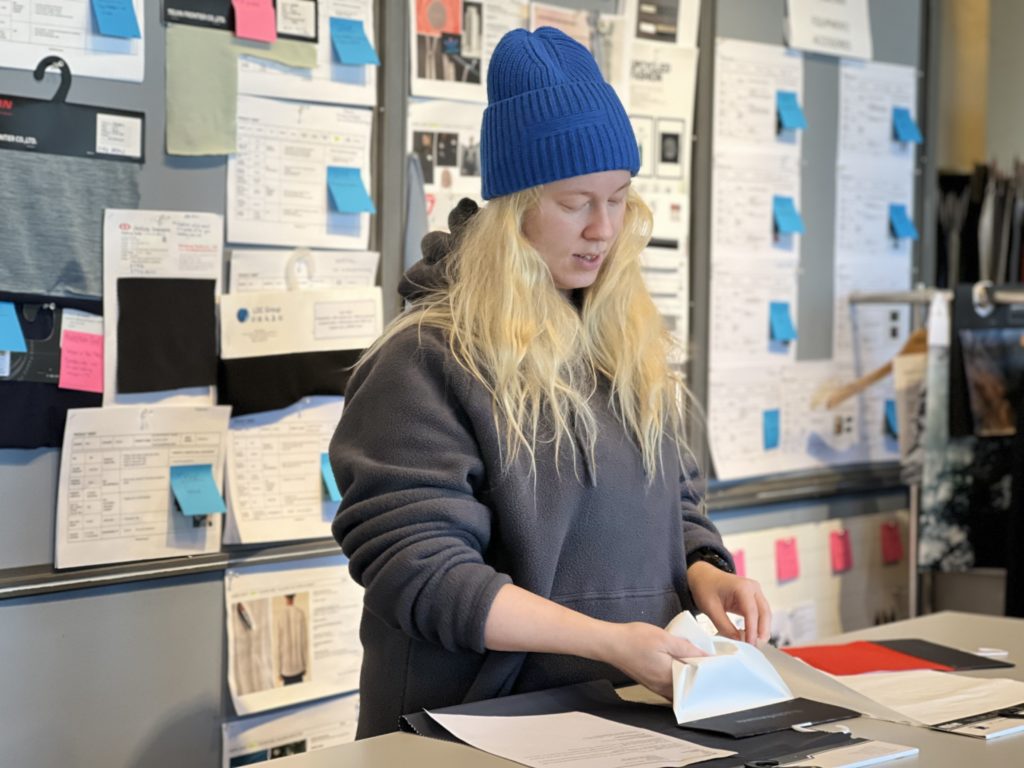 Meet Lina Bredberg, Material Manager at Peak Performance. Read on to learn about Lina's life at Peak Performance, her career journey, and how her love for CrossFit translates into work-life learnings.
Lina Bredberg has worked at Peak Performance since 2017. She started fresh out of university as a Junior Fabric Developer. With a strong passion, eagerness to learn, and a positive attitude, in only five years Lina has grown and developed into her current role as Material Manager responsible for materials for all product categories at Peak Performance.
"Right from my first day at Peak Performance, I felt at home," says Lina. "Not only did I feel like I belong, but I also discovered what I really wanted to do with my career. And that's material development."
Never a dull day in the world of materials and fabrics
Lina says she's always worked in a small team at Peak Performance, which suits her perfectly.
"In a small team, I can get my hands dirty and be involved in a bit of everything. I've been able to work with different products, teams, and suppliers. This has enabled me to learn a lot in a relatively short amount of time."
Life at Peak Performance is fast paced. This is true in Lina's role as well, where things are continuously evolving and changing.
"No day is like another in my role, and I love it. It keeps me on my toes and pushes me to be flexible. It's the way I prefer to work."
As a Material Manager, Lina oversees all materials at Peak Performance. On a daily basis, she has meetings with design teams, suppliers, and other industry experts. Her role is all about problem solving, discussing, and constantly connecting with different people and teams.
"My work is not a solo mission but a team effort. Every day I'm in touch with people both internally and externally. For example, I'm involved in numerous initiatives and research projects where I connect with other brands and people within the outdoor and textile industry."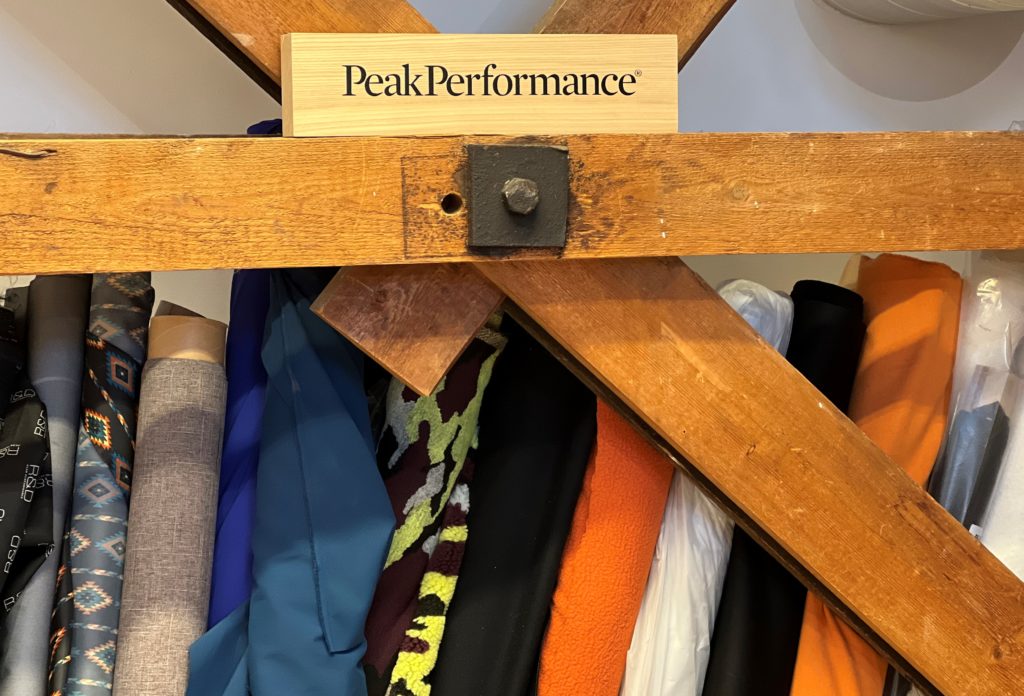 From the box to the office—learnings from CrossFit
Lina says she loves her job, which is why it would be easy for her to be in constant work mode.
"I've realized I need to maintain a healthy balance between being extremely efficient and ambitious at work, and fulfilled in my life outside of work. This is crucial for my personal and professional growth. The leaders at Peak Performance really support our work-life balance. We are encouraged to take a break when needed."
When Lina needs to clear her head, she goes down to the office gym and trains in the CrossFit box. CrossFit has played a significant role in Lina's life. Not only does it help her disconnect, it gives her learnings which carry over to her work.
"CrossFit has taught me how you should not compare yourself to others in your career. It's about doing the best you can do, and being the best version of yourself you can be. Challenge yourself, push yourself, but don't benchmark your success against the success of others."
Lina explains how in CrossFit you train as a group but perform most exercises individually for your own gain.
"It's about focusing on yourself and doing your best. And that's enough," she says.
Group-wide commitment to sustainability stirs innovation
In September 2022, Peak Performance opened its first physical store in Beijing, China. Lina sees this entry to the Chinese market as an exciting opportunity which will present positive challenges for her and her team.
"We are eager to discover and learn what this means for us in material development. How do Chinese consumers perceive our products, fabrics, and materials? What are the trends in China? How can we adapt and tailor our offering to the Chinese market?"
Lina also reflects upon how the new Amer Sports ESG strategy will bring growth across all Amer Sports brands through the elevated environmental, social, and governance ambitions and commitments.
"It's exciting to see how, through this initiative, all Amer Sports brands are coming together and focusing on circularity and other sustainability themes. This really trickles down into everything we do with materials. I believe this will really impact all teams and brands in a positive way. A lot of innovation and new projects will come out of this," says Lina.
Lina Bredberg
Current role: Material Manager at Peak Performance
Location: Stockholm, Sweden
Previous experience: "I graduated in 2016 from the Swedish School of Textiles with a bachelor's degree in Textile Product Development. My first job was as a Quality Controller at Stadium, a big retailer in Sweden. In 2017, I started at Peak Performance as a Junior Fabric Developer."
Hobbies and interests: "I love working out in the box. I spend a lot of time with my dog Elsa, who often plays assistant to our team as a general furball of joy. I enjoy spending time with family and friends at the summer house, and time in nature with a thermos full of coffee and traditional Swedish fika in my backpack—usually a cinnamon bun."
Fun fact: "I love exploring new cultures and have lived in many places in Sweden as well as in England, USA, and China."